Q. How do I get an estimate?
A. Just give us a call or fill out the form. We will ask you a few simple questions about your home and windows and give you a phone estimate based on normal average homes in our database and in your neighborhood that have the same characteristics as your home, size of home, type and amount of windows, etc. Your price could be more or less, but it is usually very close to the phone estimate. We've done so many homes over the past 31 years that we probably do some of your neighbors, so we have a lot of faith in our phone estimates.
Q. How long will I have to wait until my appointment?
A. We have several trucks out each day and can usually accommodate most scheduling needs.
Q. How will I know what the price will be?
A. We are confident in our phone estimate enough to make an appointment and send a team out. Before the team begins work, they will look at your home and give you the exact price, in writing, with no surprises.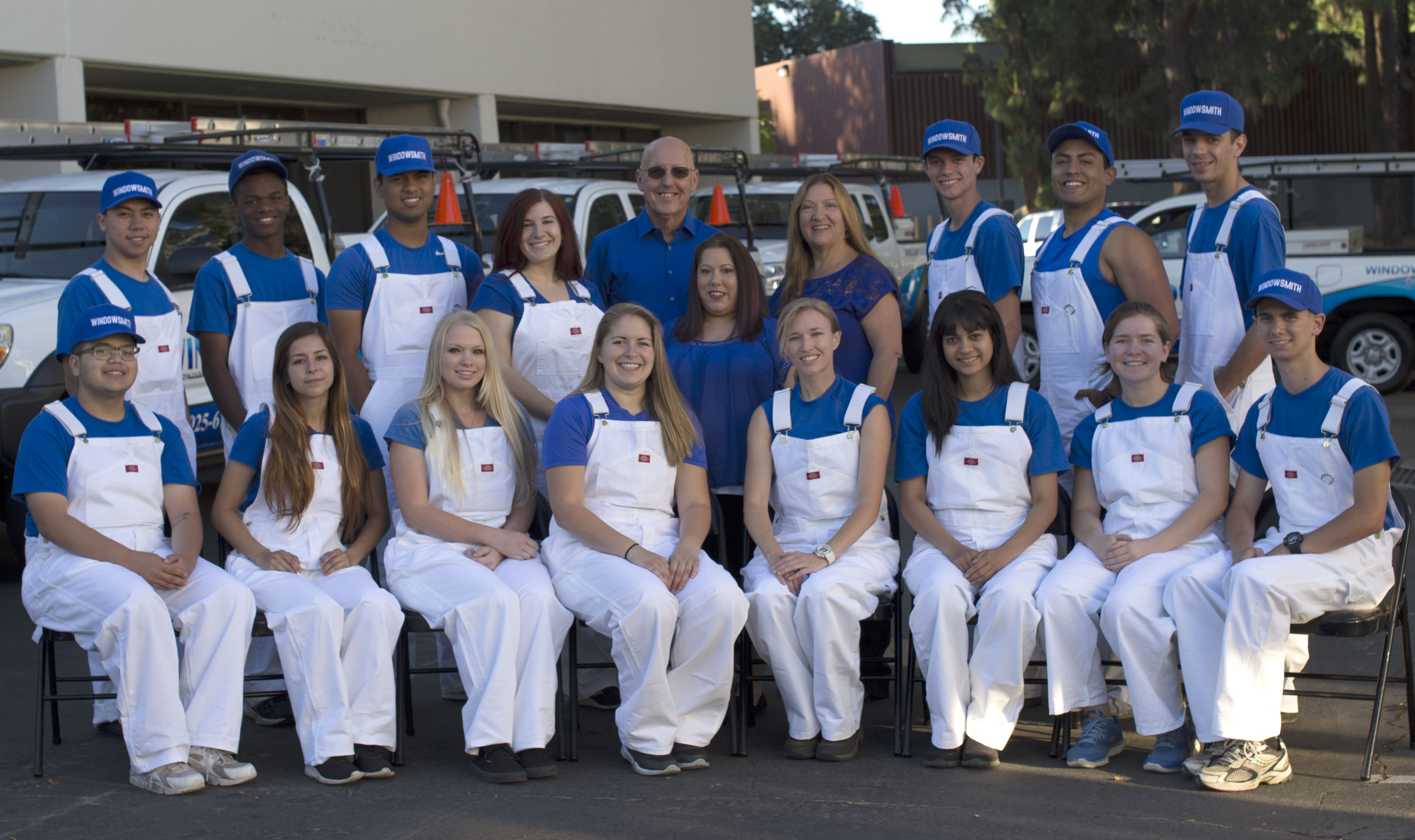 WHAT IS INCLUDED IN A WINDOWSMITH BASIC WINDOW CLEANING?
On the insides Windowsmith will professionally remove normal every day dirt and normal residue from normal living that a normal person would expect to be on an average home window. On the outsides we only remove the normal dirt and normal grime and debris that a normal person would expect to be on an average home window. For heavy or stubborn dirt or debris, we use nylon scrub pads that will not scratch your window. We only clean the glass but will wipe off the surrounding frame and sills of cobwebs, drips, or easily cleaned smudges.
WHAT WINDOWSMITH DOES NOT DO!
Windowsmith offers a basic window cleaning service. We do not do any kind of glass restoration. We are a Scratch – Free company. There is nothing in our bucket that will scratch a window.
We will not use any type of scraper or solvent on your glass. We do not use razor blades.
We do not remove scratches, any kind of deck or house stain, paint over-spray or splatters, or baked on sap.
We do not remove water stains.
We do not do any type of repair on windows.
We do not remove any kind of construction residue including caulking, silicone residue, tape or tape residue, concrete or stucco splatters, or any other mess from construction or repair.
We do not remove screws, nails, or any other type or permanent fasteners.
Q. Do you offer screen cleaning?
A. Of course we do! Screen cleaning is one of the best ways to keep your windows cleaner longer.
Q. Do you clean mirrors?
A. Absolutely! We can clean most mirrors as long as they are permanently and solidly installed. (We don't clean hanging mirrors )
Q. Do you clean the window frame and tracks?
A. Frames, tracks, and sills on the inside and the outside are wiped as we clean each window.
Q. I have tinting on the inside of my windows; will your cleaning solution harm them?
A. We use a cleaning solution formulated for use on window tinting films. We do not use any harsh cleansers, scrubbers, or scrapers on tinted windows.
Q. What about broken screens? The last company damaged some of my screens and I had to replace them.
A. If we rip, tear, or bend the frame of any of your screens we will repair them at no charge. Before we begin a job we inspect the screens for damage and identify them for you.
Q. I have new carpet and I'm concerned about stains and dirt being tracked into my home?
A. Windowsmith employees take their shoes off on all carpeted floor surfaces. We put a towel under our buckets and make sure any ladders or stools have nice clean feet.
Q. Do you have weekend appointments available?
A. We work Monday through Friday. We have very early morning appointments for those customers who need to work around their work schedule.
Q. How many workers will arrive?
A. In most cases, we assign as many workers to a job as are needed to complete it in one or two hours.
Q. Can you furnish references?
A. Yes, we can furnish several references in your neighborhood. (most likely, someone on your street!)
Q. What if it rains?
A. Rain doesn't make dirty windows! Dirt makes dirty windows! If it is rainy or wet to the point of being a safety concern, we will reschedule for another day. During the rainy months of November through April, rain is pretty much expected and we have no "Touch -Up" policy. We do happily offer a 7 day "Touch-Up" policy during the months of May through October just in case there are some unexpected rain related issues that need to be touched up.